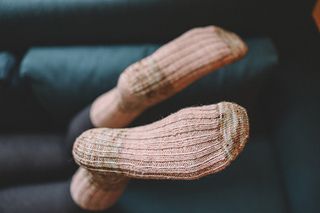 Toe-Up Socks
Instructor:
Class Description:
Photo Credit © Andrea Mowry
This is an online zoom class where you can choose to knit one or two Toe-Up socks at the same time using the magic loop method. This class is perfect for intermediate knitters ready to delve into sock knitting. This class is also good for knitters looking for an alternative to DPNs and cuff-down sock construction. Advance your knitting techniques and acquire the skills to knit your own pair of beautiful socks.
Toe-up socks are easy to try on as you knit and you can be sure to use every last bit of your yarn. You can also choose to add a splash of colour in the heel and toe. This class is suitable for intermediate to adventurous beginners comfortable with knitting and purling, circular knitting, ribbing, as well as basic increases and decreases.
Please read Tips for Navigating Online Classes to prepare for and have the best possible experience with our virtual zoom courses.
Cost:
$75 plus materials

Please call (604-874-9665) or stop by the shop to register.
Materials:
All correct materials are available for purchase at Three Bags Full and can be picked up from the shop or shipped out via Canada Post.

• 2 skeins of Koigu KPM and 1 skein in contrast colour for toe and heel
• A copy of Andrea Mowry's Everyday Socks
• 40" 2.25 mm Addi Sock Rocket or ChiaoGoo's Red Lace Mini 4" kit (includes 1.5-2.5 mm knitting needles and cords- if working two socks, purchase an 37" cord)
• Stitch markers, scissors, darning needle, pen and paper for note taking

Sessions:
Array