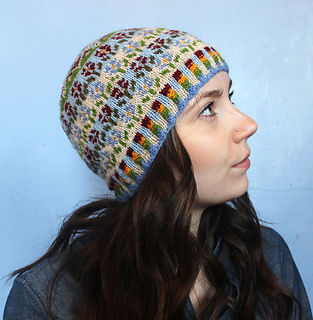 The Art of Fair Isle Knitting: Hats
Instructor:
Class Description:
Our fun 3-week program will introduce knitters to the Fair Isle tradition and the techniques that define it while knitting the Peerie Flooers, Sheep Heid, Neep Heid or Tettegouche. (If there is another Fair Isle hat pattern that interests you, but is not listed above, please email the shop and the instructor will have a look at the pattern).
Cost:
$75 plus materials
Please call (604-874-9665) or stop by the shop to register.

Materials:
For the Fair Isle Hats:
Yarn: Let us know if you would like us to make up a kit with yarns used in Melissa's shop samples of the various hats. Alternatively, you can choose your own colour combinations and compatible yarn–just stop by in advance of the class and we will be happy to help with your selection.
Needles:16" circular and dpns in size needed to obtain gauge. We will talk about swatching for gauge in Class 1
Notions: stitch markers
Pattern: Please download your pattern(s) from Ravelry (see links above).
Class Sessions TBA