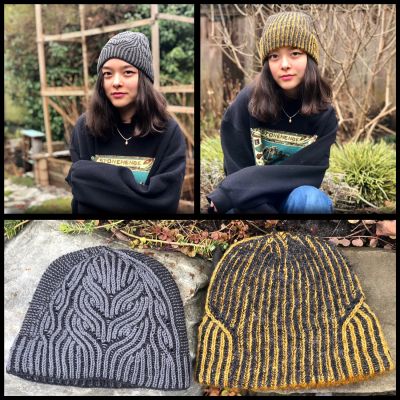 Intermediate Brioche
Instructor:
Class Description:
In our online zoom class, learn this popular, but tricky technique by knitting either Andrea Mowry's Harlow hat, Vintage Prim or Old Port. This class is best suited to intermediate knitters. Prerequisites include confidence with knit, purl, yarnovers, decreases, increases and circular knitting. Please only choose the Old Port if you are already familiar with brioche.
Please read Tips for Navigating Online Classes to prepare for and have the best possible experience with our virtual zoom courses.

Cost:
$75 plus materials
Please call (604-874-9665) or stop by the shop to register.
Materials:
All correct materials are available for purchase at Three Bags Full and can be picked up from the shop or shipped out via Canada Post.

For our brioche sample we make a yarn cozy prior to the project:
• Copy of Fiberista Yarn Cozy

• One skein of Quince and Co. Lark and one skein of Noro Kureyon

• 4.5 and 5 mm 16" circulars
For the class project:
• Copy of Old Port, Vintage Prime or Harlow
•For Old Port: 1 skein of Marsh Mohair (for lining), 2 high contrast skeins of Rustic Heather Sport, 16" 3.25 and 3.5 mm needles and a set of 3.5 mm dpns
•For Vintage Prim: 2 high contrast skeins of Quince and Co. Finch, 16" circulars and dpns in 3.5 mm
• For Harlow: 2 high contrast skeins of Quince and Co. Finch, 16" circulars in 2.75 and 3.25 mm and dpns in 3.25 mm
For all projects:
• stitch markers -triangle stitch markers are best and they come in Cocoknits Flight of stitch Markers •darning needle, scissors

• knitter's pride cable needle (metal hook-shaped) for correcting mistakes
Sessions:
Array