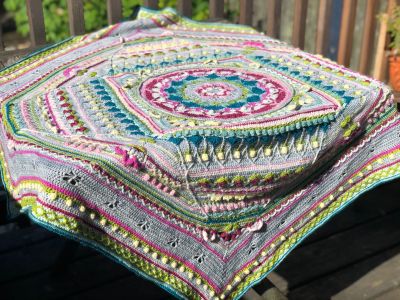 Deconstructing Sophie's Universe
Instructor:
Class Description:
In this virtual zoom class, we will learn a variety of intermediate to advanced crochet stitches and, most importantly, how to recognize and read your work. Students should be comfortable with single, double and half double crochet. Knowledge of the basic crochet stitches will demystify the seemingly advanced ones that are used to create this easily made, but impressive looking blanket!
Please read Tips for Navigating Online Classes to prepare for and have the best possible experience with our virtual zoom courses.

Cost:
$225 plus materials (class fee includes practice yarn for class 1 and a copy of Sophie's Universe- if you have already purchased the pattern book, the class fee is $150)
Please call (604-874-9665) or stop by the shop to register.

Materials:
All correct materials are available for purchase at Three Bags Full and can be picked up from the shop or shipped out via Canada Post.

We will be choosing and planning our class materials in class 1. Please bring your practice yarn (supplied with the class) a 6, 6.5 or 7mm crochet hook as well as a notebook and pens or pencils to the first class.
Sessions:
Array