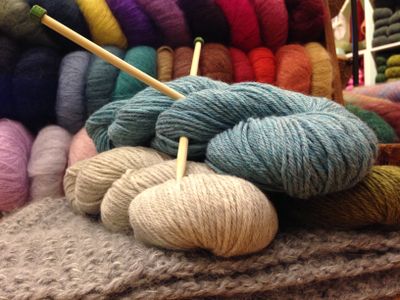 Beginner Knitting
Instructor:
Class Description:
This is an online zoom course for absolute beginners or those still working on basic skills. You will learn to cast on and cast off, knit and purl, combine stitches into patterns, and correct mistakes. Two projects provide opportunities to practice and refine your new skills–a ribbed scarf and a basic hat worked in the round with circular and double-pointed needles. Join this course and learn to knit in a fun and supportive environment.
Please read Tips for Navigating Online Classes to prepare for and have the best possible experience with our virtual zoom courses.
Cost:
$125 for 4-week course plus materials (includes a 'Learn-to-Knit' booklet)
Please call (604-874-9665) or stop by the shop to register.
Materials:
All correct materials are available for purchase at Three Bags Full and can be picked up from the shop or shipped out via Canada Post.
• One skein Quince and Co. Lark worsted weight yarn in a light colour (cream or pastel green, yellow, pink, blue)
• 10" 5 mm knitter's pride straight wooden knitting needles
• 2 skeins of Koigu Cheers (if you would like to try the ribbed scarf project in class 2)

• Cocoknits Stitch Fixer
• Cocoknits Bent Tip Tapestry Needles

• Materials for classes 3 and 4 hat project will be discussed in class
Sessions:
Wednesdays from 7:00 PM to 9:00 PM
Dates: Oct 07, Oct 14, Oct 21, Oct 28, Nov 04
Wednesdays from 7:00 PM to 9:00 PM
Dates: Nov 18, Nov 25, Dec 02, Dec 09, Dec 16