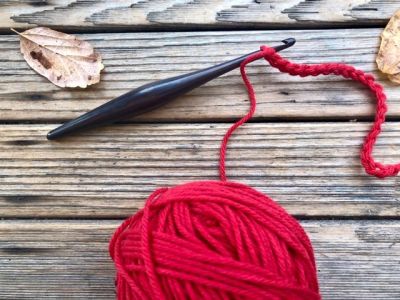 Beginner Crochet
Instructor:
Class Description:
This is an online zoom course for absolute beginners or those still working on basic skills.
Curious about crochet? Whatever your experience, join us to learn this versatile craft. Whether you are an absolute beginner, or a knitter looking to compliment your skills and add something special to your projects, this course covers all the basics.
Working through a simple handwarmer pattern, you will learn single, half-double, and double crochet; seaming and basic pattern-reading skills.
Please read Tips for Navigating Online Classes to prepare for and have the best possible experience with our virtual zoom courses.

Cost:
$125 plus materials for 4-week session (includes Learn to Crochet Booklet)
Please call (604-874-9665) or stop by the shop to register.

Materials:
All correct materials are available for purchase at Three Bags Full and can be picked up from the shop or shipped out via Canada Post.

• 1 skein Quince and Co. Lark in a solid non-heathered light colour (cream or pastels work best when learning crochet techniques)
• 1 5mm Crochet hook
• 1 Copy of Churchmouse's Crocheted Sampler Scarf & Handwarmers
• 2 skeins of Quince and Co. Lark, 1 skein of Rosy Green Wool Big Merino Hug or approximately 150 yards of a worsted weight yarn for the Crocheted Sampler Handwarmers.
• Cocoknits Bent Tip Tapestry Needles

• Cocoknits locking stitch markers or Cocoknits Split Ring Markers

Sessions:
Array