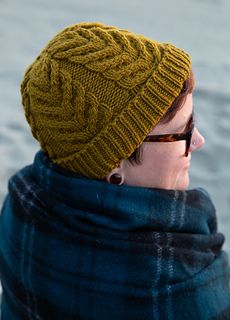 Antler Toque: A Cabled Hat Class
Instructor:
Class Description:
© All Photos TinCanKnits Sample shown in Quince and Co. Osprey Honey
Take your beginner toque knitting to the next level with this online zoom cabled hat class. In this class, we will come to class with the ribbing of the hat already knit and learn to read cable charts, work cable stitches and in our final class we will work decreases over a cable pattern.
Students should be comfortable knitting and purling in the round, unknitting and be familiar with one or more basic decrease (such as a k2tog).
Please read Tips for Navigating Online Classes to prepare for and have the best possible experience with our virtual zoom courses.

Cost:
$50 plus materials
Materials:
All correct materials are available for purchase at Three Bags Full and can be picked up from the shop or shipped out via Canada Post.
• copy of Antler Toque by TinCanKnits
• 16" knitting needles in 4 mm and 5 mm
• 5 mm double-pointed needles
• stitch markers, cable needle
• heavy worsted weight, such as Quince and Co. Osprey, Crane or Owl, Soft Donegal or Woolfolk Får in amounts needed for size
Sessions:
Array