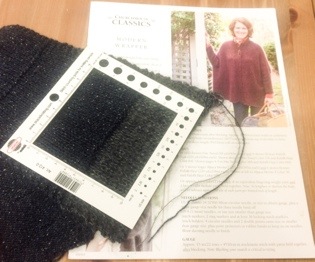 Looking for instructions on working a gauge swatch? See Getting Good with Gauge here.
A followup post on Yarn Substitutions can be found here within the week!
Gauge: what is it good for, and why should I care?
Gauge (sometimes called tension) describes the density or sheerness of a knit or crochet fabric, and is usually expressed in a statement about the number of stitch and rows in a 10cm/4" square.
Gauge in Patterns
Designers usually work with a specific gauge in mind, and the garment or accessory sizing in their pattern will only be true if the knitter/crocheter matches the pattern's stated gauge. Â I'll be talking about stitch gauge here, which usually affects the width of the garment.
Christa writes a sweater pattern using Cascade 220 with a stitch gauge of 20sts over 10cm/4" with a recommended needle size of 4.5mm/US7. Elaine wants to make Christa's sweater and casts on 160 stitches for the 32" size. After knitting for a few hours, Elaine realizes that the sweater looks too big. It now measures 35.5" across, even though Elaine has followed the instructions perfectly. What happened?It turns out that Elaine is a looser knitter than Christa, and even though Elaine used the recommended 4.5mm needle, the resulting fabric was actually only 18 stitches over 4". Here is the math: Christa knits 20 stitches in 4 inches, so 5 stitches in 1 inch. A 32" sweater needs 160 (32 x 5) stitches. Elaine knits 18 stitches in 4 inches, so 4.5 stitches in 1 inch. A 32" sweater needs only 144 (32 x 4.5) stitches, but since the pattern called for 160 stitches, Elaine now has 16 extra stitches.. Which works out to 3.5" (16/4.5).. Â Or looking at it another way, 160 / 4.5 = 35.55".
For most of us, an extra 3" is enough to make the difference between a sleek garment and an ill-fitting one. Want a good looking sweater? Check your stitch gauge! Row gauge is also important, particularly for patterns that have shaping or other design details happening in a specific number of rows. If your row gauge is different from that of the designer, you may run into tight armholes, too-long sleeves or waist shaping that begins at your hips.
Gauge is less important for making a scarf - the 45 stitches of a pattern would create a scarf that is 10" wide at 4.5 stitches per inch, or 9" wide at 5 stitches per inch. As long as you are happy with the fabric that your gauge is creating, the sizing of a scarf won't change so dramatically that it becomes unwearable.
Swatching In Pattern
If you are making a pattern that features garter, cables, lace, or another highly textured stitch, the pattern will likely specify a specific stitch pattern to be worked for your gauge swatch. As these stitches may either pull in or block out more than a plain flat fabric, a stockinette stitch swatch will not give you the necessary information needed to determine the correct needle size to use for your project.
Final Thoughts
When it comes to garments, a pattern designer has done a lot of the hard work for you: experimenting with different yarns and stitch patterns and various gauges to come up with a fabric that is pleasing and will either drape well or provide necessary structure, and then doing all of the math to create accurate instructions. Following a pattern as it is written, with the suggested yarn or a close substitution and the correct gauge, will result in a garment that should match the pattern's finished measurements... hooray!
If you're ready to experiment a bit more but want some guidance, we recommend (and sell!) Ann Budd's books: The Knitter's Handy Book of Patterns, and The Knitters Handy Book of Sweater Patterns. Each book has basic patterns written in multiple sizes, with multiple gauge options, and helpful hints for adding your own stitch patterns or other custom details to the garments and accessories.
Want to start playing with gauge on your own? Scarves, stoles and cowls are fairly flexible for sizing, so a good place to start. Working up a lace weight scarf pattern in a worsted or aran weight yarn will give you a cozy wrap with less tiny stitches and eye strain! Mandy has knitted the Flower Basket Shawl in Cascade EcoWool - we don't have photos of her project, but a quick search for "lace shawl" under the EcoWool project page has 12 pages of entries, check them out here.
---