We're so excited about Churchmouse's newest pattern, Modern Wrapper! You've probably seen it in the "Hot Right Now" Ravelry pattern list.
We saw the Wrapper knit up in a variety of yarn choices at Vogue Knitting Live last weekend and knew it was a must-have for TBF. The yarn mix is brilliant--a fingering weight tweedy yarn held with Kidsilk Haze (the "secret ingredient"). Churchmouse has used Brooklyn Tweed Loft in the above photo. This yarn is not yet available in Canada :( so we've substituted Jamieson's Shetland and the resulting swatch is perfect . . . weightless, soft and draping!
Jamieson's Shetland Titanic 151 paired with Kidsilk Haze Anthracite 639.
Swatch completed, soaked in Eucalan, blocked and measured, gauge perfect at 15 sts/4 inches. We're now ready to cast on. Check back soon for updates.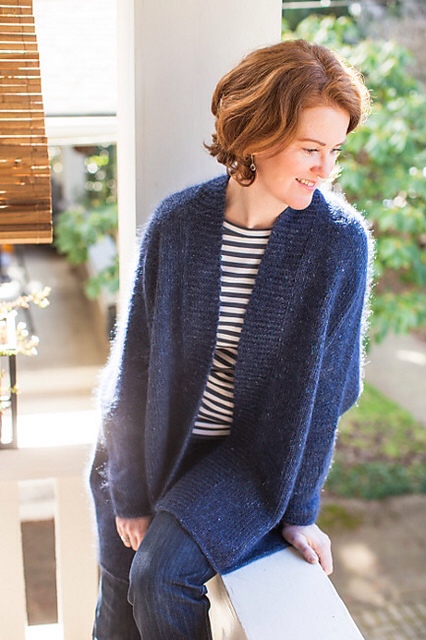 Here's another version using Rowan Fine Tweed + Kidsilk Haze. The possibilities are endless. We have 40 shades of Shetland, 24 shades of Fine Tweed, and 32 shades of KSH so choosing a colour might be the most difficult part of the project!
Churchmouse writes about the Wrapper:
"One size to flatter every body. The Modern Wrapper walks the line between cozy and chic, snuggly and sleek; an oversized piece designed with thoughtful details to fit well and stay on the shoulders in a softly draping fabric to flatter every body. Wear it around the house, or dress it up a little for town. We mixed a strand of tweedy wool or smooth alpaca-blend fingering-weight yarn with lace-weight mohair on nice big needles for luxurious drape and a quick knit. Customize the fit by adjusting sleeve length."
---