The Girl loves books and thinks you're never too young for a library card! And speaking of books, have you read the Summer Reading List from Knitters Review? We have Stephanie Japel's popular "Fitted Knits" and Amy Singer's "No Sheep for You" and we've ordered "Loop-d-Loop Crochet", "Arctic Lace" and the wonderful "Kids Learn to Knit" by Lucinda Guy. Stop by to have a look at these fun books.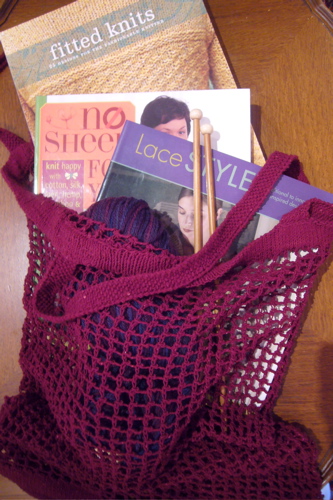 Books shown in Pocket Market Bag by Plane Images—knit this is hemp or flax for a great carry-all that folds up into its own rectangular pocket.
If you subscribe to Knitting Daily, you saw the email peak inside the book, Lace Style. It's one of the most interesting approaches to lace we've seen. There's even a knit-a-long you can join. And while we're in the mood for internet links, check out Sandi's finished Hot Tomato. We love it!
---