We're celebrating a birthday in November--The Boy will be a year old! Â Of course, this calls for a Birthday sweater, so we decided to try out the new Rowan Felted Tweed Aran in our favorite child's coat pattern.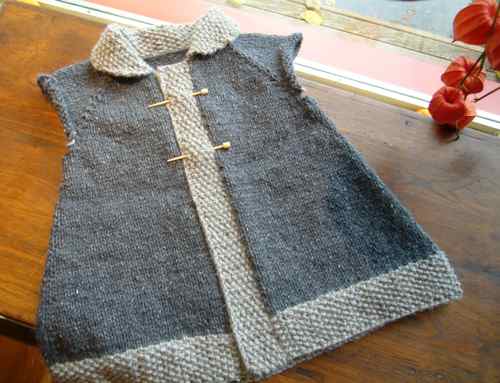 Rowan Felted Tweed (so far, 3 balls dark grey, 1 and a bit  light grey).  Sleeve stitches are still on waste yarn, hopefully we'll have time to finish them tonight.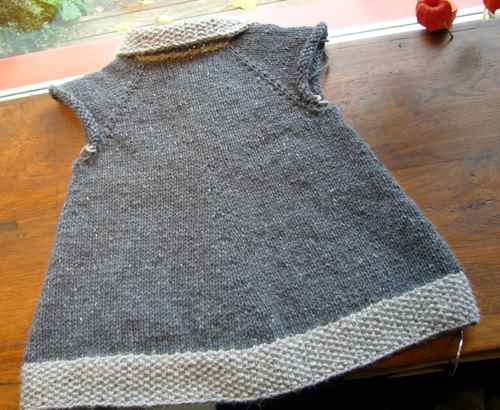 Here's the back, showing the lovely A-line shaping (paired increases at sides and center back).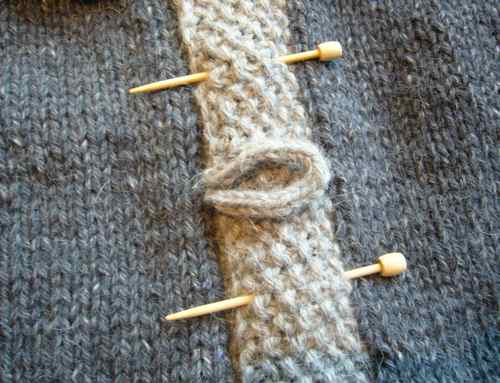 We're planning i-cord toggles for the button band.  And, by the way, we love  the little Clover bamboo pins for holding knitting together when joining seams or planning buttons (they come 10 per package).  A rounded tip protects the yarn from splitting and the natural texture of bamboo keeps the pins from sliding out.  We also use them as shawl and sweater closures.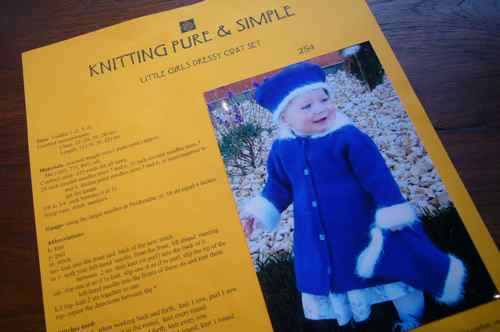 And here's the pattern--yup, kind of hard to believe it's the same coat! Â This is one of those really great patterns that is hiding behind a bit of unfortunate styling. Â We've replaced the fake fur trim on collar and cuffs with a border in the same yarn used in the body of the coat. Â The pattern calls for a garter stitch border, used in this version. For the Boy's coat, we've chosen seed stitch borders.