If you haven't seen it already, check out Knitter's Review's Ten Great Gifts for Knitters. We love the list (what knitter wouldn't!) and are happy to find most of her recommendations at our shop:
1. Maine Morning Mitts: we have Noro Kureyon in lots of wonderful colours, or you could substitute Malabrigo or Mountain Mohair (all beautiful single-ply yarns)—must make these!
2 and 3: Umbrella Swift and Ball Winder: Hey, we don't have jumbo ball winders (we're thinking about getting them) but we do sell the same swift and winder used in the shop and we can vouch for their durability (thousands of skeins of yarn have put them to the test)!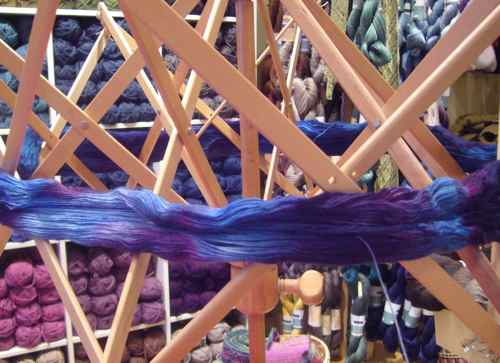 Umbrella Swift (with Malabrigo lace)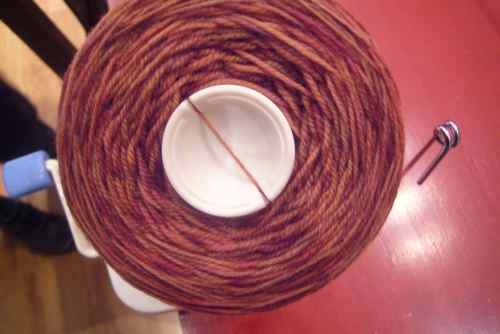 Ball Winder (with Smooshy)
4. Needles: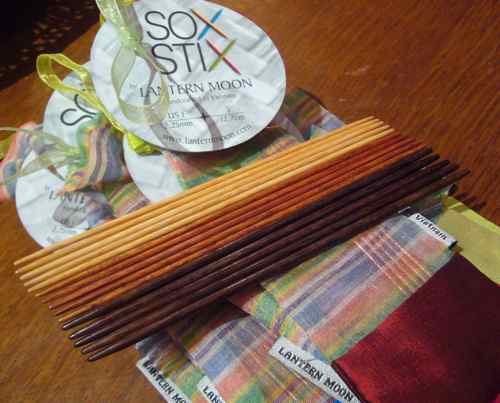 Lantern Moon Sox Sticks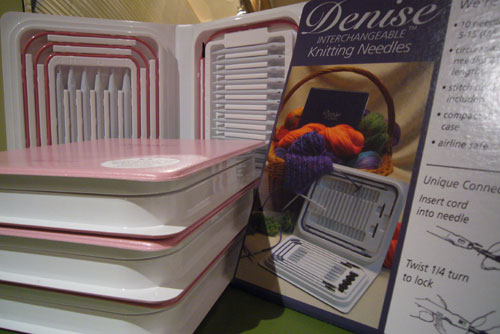 Pink Denise Interchangeable Needle Kits
5. Darning Needles: It's true, we can never have too many Chibis.
6. Membership in a Yarn Club: Sorry, we don't offer a yarn club, but we do have a wonderful selection of sock yarn— Smooshy, Cherry Tree Hill, Louet Gems, Koigu, Nature's Palette, Indigo Moon, Lorna's Laces Shepherd Sock and Sport . . . all delights for the sock knitter. Also, membership to the West Coast Knitters Guild would be a wonderful gift for any knitter. The Guild meets at 7pm on the lst Tuesday of every month at Oakridge Senior Center, is open to all ages and levels of knitters, and offers fun and informative programs as well as charity knitting.
7. Armchair Adventures: We agree, a subscription to "Wild Fibers" would be wonderful.
8. Knitting Bags: Yes!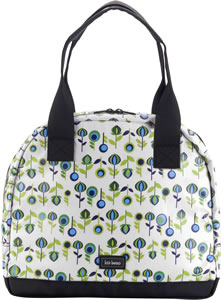 Lexie Barnes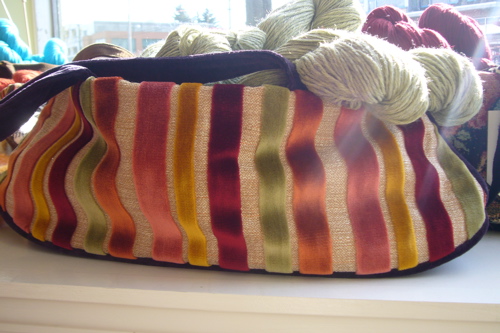 Offhand Designs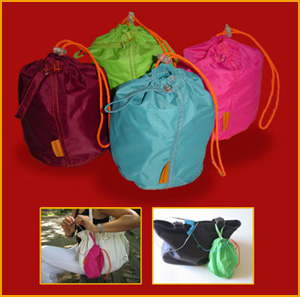 Go Knit Pouch
9. Pampering Soaps and Potions: Great idea, but you'll have to search these out—sorry, we're lacking in potions!
10. A Gift that Keeps on Giving: Yes, please consider this (we donate to Medecin Sans Frontieres).
---