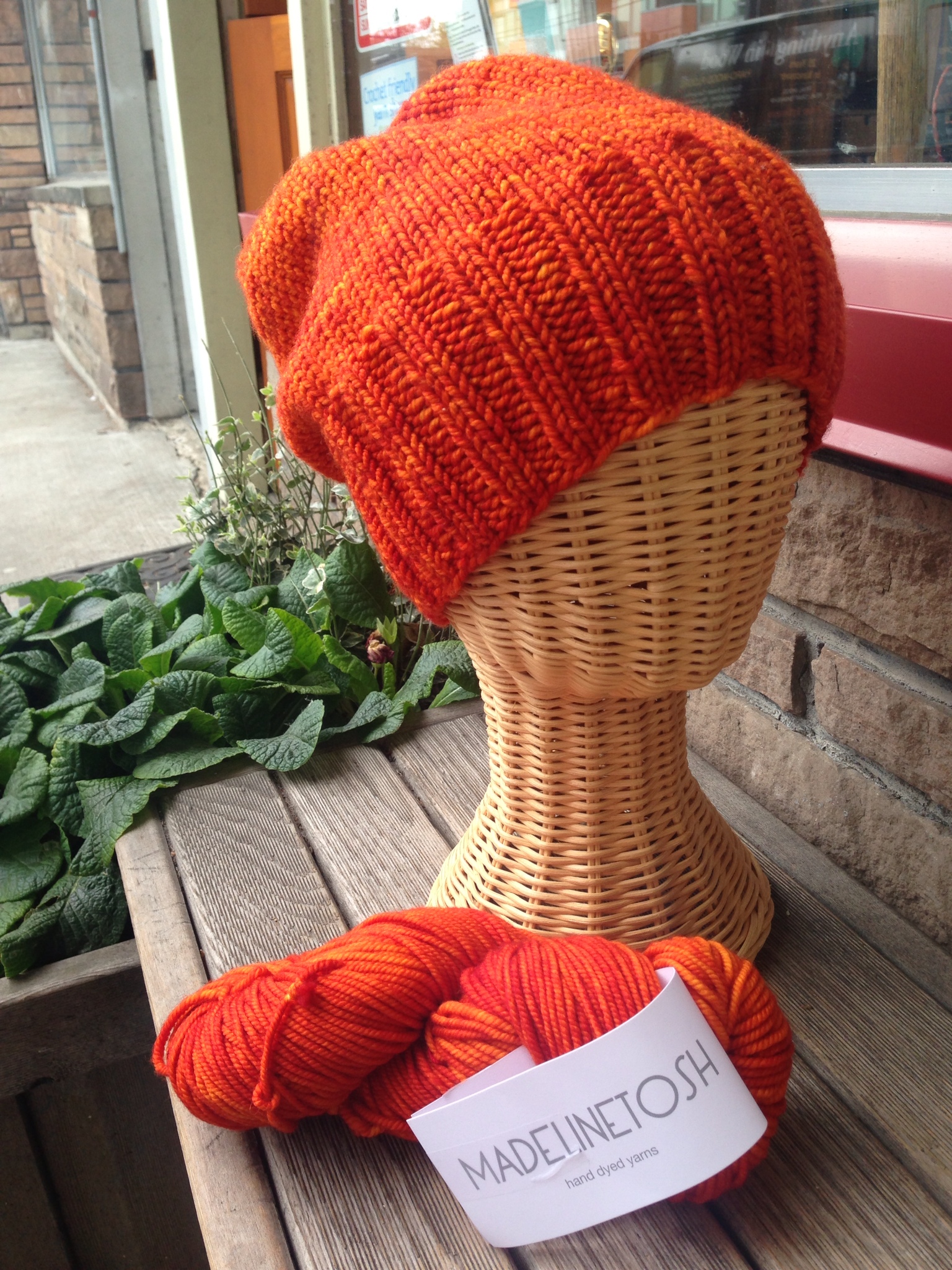 Melissa's Tangerine Toque, knit in Madelinetosh Chunky. Students in our Beginner Knitting classes have the option to knit this for their first knit-in-the-round experience. Here's the pattern:
Tangerine Toque
This slouchy hat is worked from the bottom up in a soft, machine-washablehandpainted wool.
Materials:
1 skein Madelinetosh Chunky
5mm (or size 1-1.5mm smaller than needle used to obtain gauge) circularneedle 16" / 40cm long
6mm (or size needed to obtain gauge) circular needle 16" / 40cm long
Set of 6mm (or size needed to obtain gauge) DPNs or preferred needles forsmall diameter knitting
Stitch markers in two different colours or with one marked as start-of-round
Gauge:
16 stitches = 4" / 10cm on larger needle
Sizing:
One size fits most.
Pattern:
Cast on 84 stitches with smaller circular needle.
Place a marker to indicate start-of-round and join in the round, being carefulnot to twist.
Rounds 1-20: *knit 2, purl 2, repeat from * to end of round.Switch to larger circular needle and knit every round for 7 1'4" from CO edge.
Crown Shaping
Setup round: *Knit 12, place marker, repeat from * to end of round. Note: Usea different colour of stitch markers than the start-of-round marker, OR use adoubled marker for the start-of-round position.
Rnd 1 (Dec. round): *Knit to 2 stitches before marker, knit 2 stitches together,repeat from * to end of round.
Rnd 2: KnitRepeat last 2 rounds, 5 more times.
Then repeat round 1 until you have about 7 stitches left, switching to DPNs oryour preferred needle for small circumference knitting when necessary.
Finishing
Leaving a 20cm / 8" tail, break the yarn and take the tail through the centre ofeach remaining live stitch to remove stitches from knitting needle. Pull yarntail tight to close the hole at the top of the hat, then take yarn to the inside ofthe hat and weave in the tail.
Tangerine Toque Pattern by Melissa Caines @2014