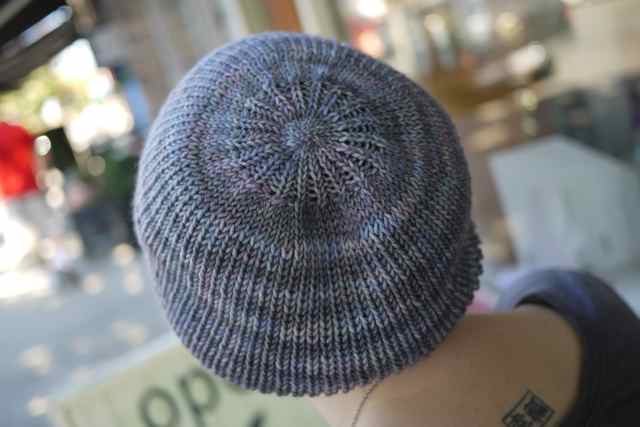 By Mandy Moore
MATERIALS
Tanis Fiber Arts Green Label Aran Weight [100% superwash merino wool; 187m (205yd) per 115g (4oz) skein]; color: Dove; 1 skein 1 40cm (16") 4.5mm (US #7) circular needle 1 set 4.5mm (US #7) double-point needles 1 spare circular needle, 40cm (16") or longer, 4.5mm (US #7) or smaller 1 crochet hook (used for provisional cast on) 1 stitch marker Smooth waste yarn
GAUGE
17sts/26rows in stockinette st approx. 30 sts/25 rows in 1x1 rib, completely relaxed and unstretched
NOTES
This project uses a provisional cast on. Any provisional method may be used; a tutorial for a good one can be found here:
DIRECTIONS
BRIM Using circular needle and provisional cast on method, CO 72 sts with waste yarn. Join to begin working in the round. Using working yarn, k 14 rounds. Carefully remove waste yarn from CO edge and place resulting live sts on spare circular needle. Fold work to WS so that CO edge is directly behind sts on working needle. Joining Round: [P1 from spare needle, k1 from working needle] until all sts have been worked. 144 sts.
HAT BODY Next Round: [P1, k1] to end. This round sets 1x1 Rib for hat body. Continue in 1x1 Rib until work measures 15cm (6") from folded edge.
CROWN Note: When shaping crown, switch to double-point needles when necessary. Round 1: [K2tog] to end. 72 sts. Rounds 2-5: K all sts. Round 6: [P2tog, k2tog] to end. 36 sts. Rounds 7-11: [P1, k1] to end. Round 12: [K2tog] to end. 18 sts. Round 13: K all sts. Round 14: [K1, k2tog] to end. 12 sts. Round 15: [K2tog]to end. 6 sts. Break yarn and draw through remaining sts.
FINISHING
Weave in ends. I recommend blocking this hat to make the ribbed body relaxed and slouchy. I wet-blocked the hat shown, stretching the body over a head-sized rubber ball. Make sure the brim is relaxed and unstretched during blocking. - Mandy Copyright 2012 Amanda D. Moore. Used with permission by Three Bags Full Knit Shop. For non-commercial use only. Unauthorized reproduction prohibited.
---