As promised, we've started swatching for Kate Davies'Â Paper Dolls sweater ("we" being Jamie, Venessa and Melissa). Â I still have to choose my colours, and I'm thinking this may be the hardest part of the project.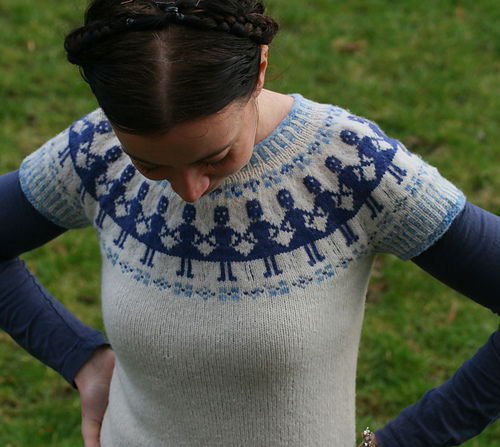 This lovely seamless yoked sweater is knit in the round and features i-cord cast on and bind off, stranded colourwork and short-row shaping. Â The 5-page pattern, available as a pdf download on Ravelry or here on Kate's website, is beautifully written with clear and thorough instructions, charts and schematics. Â Sizes range from Child 22 (age 6) to Adult 44.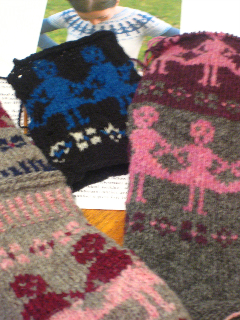 Here are our swatches, knit in Harrisville Shetland.  This is the same yarn we're using for our Plum Frost Cardigan.  (And, if you're a Ravelry member, check out  this beautiful pullover, also knit in Harrisville by one of our customers as her first sweater project!) Swatching a fair-isle design is so important, not just for gauge, but to see how the colours work together--it's taken us several tries to decide. Check back soon to see our final choices and progress updates. Finally, a note about designer Kate Davies.  If you follow her blog, Needled, you'll know of her recent stroke and the amazing energy she has directed toward rehabilitation.  You'll also know she just released Manu.  Help . . . another wonderful sweater pattern!  We'll be sending healing thoughts as we knit Kate's Paper Dolls.
---