Not much time for knitting, but we've managed to finish a few projects.
We loved knitting the Noro Transitions scarf—this amazing yarn shifts both color and fiber content (wool, silk, cashmere, alpaca, angora, kid mohair and camel), each emerging magically as you knit. One skein would make a ribbed hat, two skeins a generous scarf or be daring and knit a sweater (one of our customers made the single cable pullover sweater from Stitch 'N' Bitch with a few modifications, and it's stunning).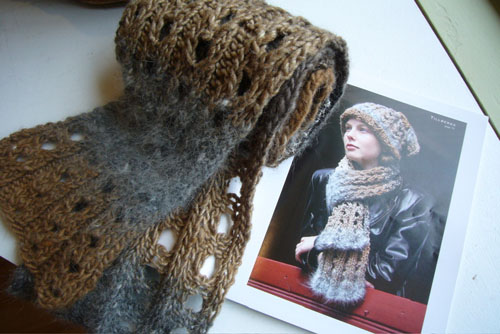 Tillberga Hat and Scarf
Cornelia Tuttle Hamilton Revisited
Yarn: Noro Transitions 2 skeins
The Hourglass Sweater is on the blocking board. We'll just need to sew down the facings and you'll see us wearing it in the shop. It was a fun pattern with great shaping and would work well as a first sweater project for an adventurous beginner. The Cash Iroha has a wonderful drape but relaxes quite a bit after washing so we're glad we didn't add extra length to the sweater. It fits perfectly!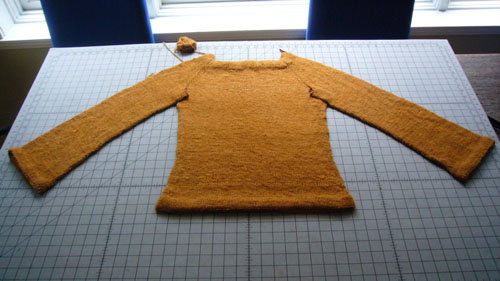 Hourglass Sweater
Last Minute Knitted Gifts
Size: Small
Yarn: Noro Cash Iroha; also knits up beautifully in Cascade 220
Blocking Board shown in large size
We knit this scarf from the pattern in One Skein (we used two skeins to make it longer) with Blue Sky Alpacas Worsted Hand Dyes (50/50 alpaca and merino). It's so soft and feels lovely to wear. We thought it looked very manly so we asked Yee Jee to model for us.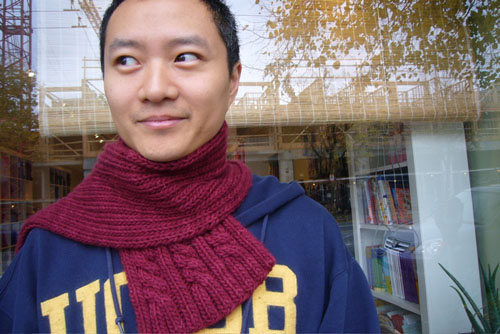 ---