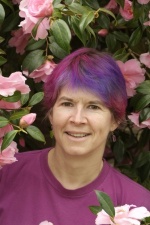 Lucy Neatby, owner of Tradewind Knitwear Designs in Nova Scotia, is an award-winning hand-knitter, designer and teacher. Most recently she has released the acclaimed Knitters' Companion DVD series. Join us on Friday night to hear Lucy speak about her career as a knitwear designer and her passion for knitting at a casual meet and greet event hosted by the West Coast Knitters' Guild.
Date: Friday, September 28, 2007
Place: City View Baptist Church, 4370 Sophia & E. 28th Ave., Vancouver
Time: 7:00 to 9:00 pm—Doors open at 6:30pm (come early as seating is limited)
Cost: $10 at the door
Refreshments will be served. Tradewind hand-dyed Celestial Merino, DVD's and patterns will be available for purchase.
---