Remember these wonderful African Baskets . . .
For two years we had a seemingly unending supply from Gregory of Baba Tree Baskets but about a year and a half ago we were sad to hear that he was closing down his importing business for personal reasons.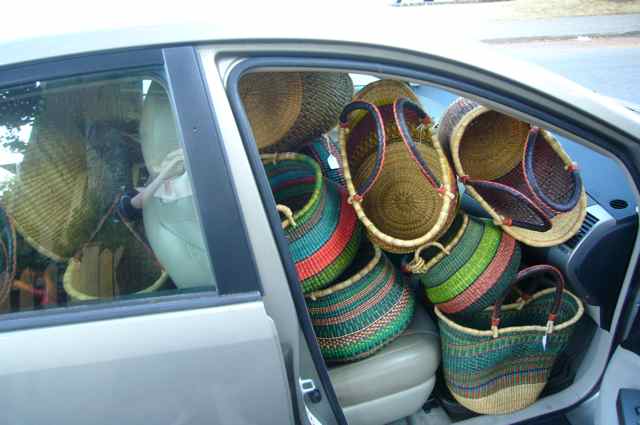 In July 2010 we loaded our final order of baskets into the Prius for transport to the shop and we've been hoping ever since to find a new supplier.  We're happy to report that we have found a Fair Trade supplier and these beautiful baskets from Ghana will be back in the shop soon, just in time for the Holidays!  We'll be announcing their arrival (with pictures) on the blog and twitter, so keep in touch.  And in case you haven't had the privilege of using an African basket, here's a list of why they are so special . . . Because they are handmade, beautiful, utilitarian, and eventually recyclable. Because using a basket reduces the need for plastic shopping bags and other unnecessary packaging. Because the weavers of northern Ghana produce the best quality african baskets. Because these baskets are ethically traded and money paid for the baskets goes directly into the hands of the weavers, enriching their lives and ours. Things you can do with your basket: Take it shopping Fill it with groceries Fill it with flowers Fill it with yarn Bake bread, wrap it in a tea towel and carry it to a friend Transport a home-baked pie—the flat bottom of the round basket works beautifully for pies Give it to the cat for a bed Let your toddler sit in it Submerge it in a tub full of water to reshape When it eventually wears out (which may take a long long time), throw it in the compost to recycle back to the earth.