Lopapeysa: An Icelandic Sweater Class
Instructor:
Class Description:
Learn Icelandic stranded colourwork knitting in this fun class.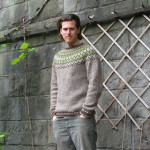 Cost:
$125 plus materials
Please call (604-874-9665) or stop by the shop to register.

Materials:
Riddari or Kambur in Lopi pattern booklet 28, Lars Rains' Asymptote or Lopi's Anniversary Sweater.
Lett lopi as per pattern, needles needed to obtain gauge, and stitch markers.
Sessions:
Saturdays from 7:00 PM to 9:00 PM
Dates: Sep 14, Sep 21, Sep 28, Oct 05, Oct 12, Oct 19, Oct 26, Nov 02, Nov 09, Nov 16, Nov 23, Nov 30, Dec 07, Dec 14