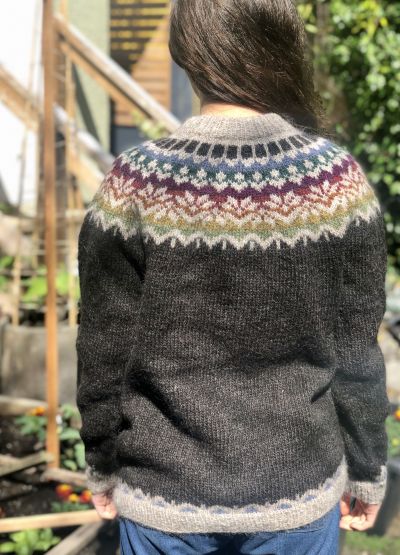 Lopapeysa: An Icelandic Sweater Class
Instructor:
Class Description:
Learn Icelandic stranded colourwork knitting in this fun online zoom class. This class is suitable for beginner to intermediate knitters comfortable knitting in the round. Please read Tips for Navigating Online Classes to prepare for and have the best possible experience with our virtual zoom courses.
Cost:
$150 plus materials
Please call (604-874-9665) or stop by the shop to register.
Materials:
All correct materials are available for purchase at Three Bags Full and can be picked up from the shop or shipped out via Canada Post.

• A copy of Lopi's Anniversary Sweater.
• Lett lopi as per pattern
• stitch markers
• highlighter tape (if working from a paper pattern)

• 4.5 mm circular needles (24" for children's sizes and adult small and 32" for all other sizes). If you are new to knitting and do not have a lot of needles, consider coming into or calling us at the shop for a consultation on which interchangeable needle kit to buy.
• We will be discussing gauge in our first class and determining needles needed for entire sweater based on our gauge swatches.
Sessions:
Saturdays from 7:00 PM to 9:00 PM
Dates: Sep 19, Sep 26, Oct 03, Oct 10, Oct 17, Oct 24, Oct 31, Nov 07, Nov 14, Nov 21, Nov 28, Dec 05, Dec 12, Dec 19
Sundays from 6:30 PM to 8:30 PM
Dates: Sep 20, Sep 27, Oct 04, Oct 11, Oct 18, Oct 25, Nov 01, Nov 08, Nov 15, Nov 22, Nov 29, Dec 06, Dec 13, Dec 20