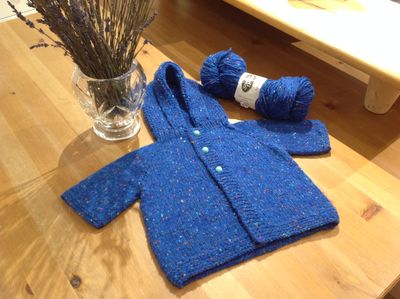 Lillie's Little Sweater
Instructor:
Class Description:
Learn simple sweater construction on this wonderfully written top-down child's sweater and wrap a loved one in warmth.
Lillie's Little Sweater is sized from 0-3 months to 3 years old. In this class, we will learn top-down sweater construction. This garment begins with the hood.
This class is suitable for beyond beginner knitters comfortable with knitting, purling and some basic decreases, such as k2tog. We will expand upon this knowledge by exploring buttonhole construction, the ssk decrease and raglan increases.
Cost:
$140 plus materials (pattern included in class fee)
Please call (604-874-9665) or stop by the shop to register.

Materials:
400-520 yards worsted weight wool, such as Sweet Georgia Superwash Worsted, Soft Donegal or Quince and Co. Lark
a pair of 4.5 24" circulars and a set of 4.5 mm double-pointed needles
darning needle, 10 stitch markers, 3 or more 1/2" to 3/4" buttons
Sessions:
Saturdays from 9:00 AM to 11:00 AM
Dates: Jan 05, Jan 12, Jan 19, Jan 26, Feb 02, Feb 09, Feb 16, Feb 23, Mar 02