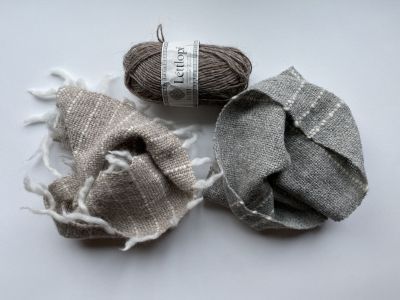 Introduction to Weaving: Fun with Fibonacci
Instructor:
Class Description:
For those curious about weaving, this is a gentle introduction. Consider the possibilities of striping sequences while working on a pre-warped Ashford SampleIt loom. Local textile artist, Amanda Wood, will walk you through basic weaving techniques including vocabulary, and simple finishing options. No previous weaving experience is required. Over the course of two sessions you'll finish a warm and woolly scarf. A small class size means there will be lots of one on one to make sure everyone completes their work.
Cost:
$150 (includes 2 skeins of Lett Lopi, use of an Ashford SampleIT loom and enough Quince and Co. Puffin to finish your woven scarf
If you fall in love with weaving, looms are also available for purchase!
Please call (604-874-9665) or stop by the shop to register.
Materials:
All materials needed for this workshop are provided. Please stop by the shop at least two weeks before start of the workshop to choose your Lett Lopi colour (two skeins of the same colour needed) so Amanda can have your loom warped and ready to use in class 1.
Sessions:
Saturdays from 9:00 AM to 11:00 AM
Dates: Feb 29, Mar 07
Saturdays from 9:00 AM to 11:00 AM
Dates: Mar 28, Apr 04