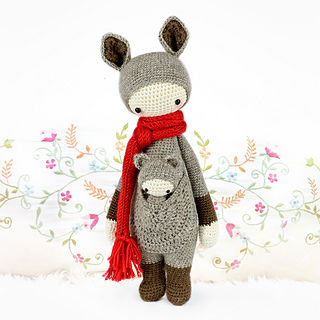 Intro to Crochet Amigurumi
Instructor:
Class Description:
Explore the world of amigurumi, the Japanese art of crocheted stuffed animals. Using the single crochet stitch, we will work through all the steps to crochet Fibi the Fox, Roco the Raccoon, or Kira the Kangaroo; fun and adorable patterns that will get you hooked!
Once completed, you'll have the skills needed to create your own cute little amigurumi world.
Students should have basic crochet skills or have completed Beginner Crochet.
Techniques covered include:
Crochet in the round using the magic loop
Adding a new colour
Increases and Decreases
Assembling and finishing techniques
Cost:
$125 plus materials
Please call (604-874-9665) or stop by the shop to register.

Materials:
2 or 2.5 mm hook (or size needed for gauge)
Quince Willett in 3 colours for Fox or Kangaroo and 4 colours for the Raccoon
Wool roving for stuffing
Stitch markers, darning needle
Copy of Fibi the Fox, Kira the Kangaroo or Roco the Raccoon
Sessions:
Saturdays from 7:00 PM to 9:00 PM
Dates: May 25, Jun 01, Jun 08, Jun 15, Jun 22, Jun 29, Jul 06, Jul 13, Jul 20, Jul 27, Aug 03, Aug 10