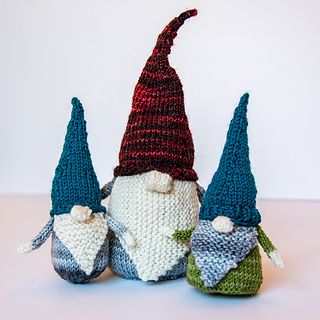 Holiday Gnomes
Instructor:
Class Description:
Fill your house with cheerful holiday gnomes this Winter season and add some new knitting techniques to your repertoire! We will be working in the round on either dpns, a 32" circular for magic loop or Addi Flexiflips.
New skills include, but are not limited to, pattern reading, knitting small circumferences in the round, i-cord, and various increases and decreases. We will also be learning some simple seaming techniques for the small amount of seaming this project requires (it is mostly seamless). For those interested in making the Here we Gnome Again pattern, we can discuss a few of the extra techniques you find in that pattern.
Cost:
$50 plus materials
Please call (604-874-9665) or stop by the shop to register.

Materials:
A copy of Never Not Gnoming, Gno Fun Like Gnome Fun or Gnome Pun Intended
2.75 and 3 mm dpns or 32" circulars for magic loop and 4 colours of fingering weight yarn (such as Koigu KPM or Quince and Co. Finch) for Gnome hat, beard, body, arms and hands.
For larger gnomes choose 3 mm and 3.5 mm dpns or 32" circulars for magic loop and 4 colours of dk weight yarn (such as Quince and Co. Chickadee, Georgian Bay Fibre Company, Bayfield DK or Lichen and Lace Rustic Sport)
Sessions:
Wednesdays from 7:00 PM to 9:00 PM
Dates: Dec 11, Dec 18