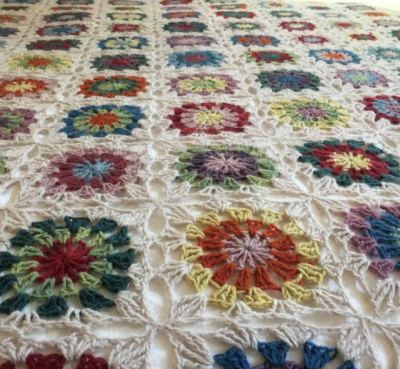 Flowers in the Snow
Instructor:
Class Description:
This online zoom class takes you step-by-step creating beautiful granny squares (hexagons) and then joining them together and working a border for a beautiful blanket. Suitable for basic level crocheters who know single and double crochet. Techniques include: pattern reading, crocheting in the round, joining a new colour and crocheting blanket squares together.
Cost:
$75 plus materials
Please call (604-874-9665) or stop by the shop to register.

Materials:
All correct materials are available for purchase at Three Bags Full and can be picked up from the shop or shipped out via Canada Post.

• A copy of flowers in the snow
• 4 mm crochet hook (or size to obtain desired tension- we will be discussing tension in our first class)
• DK weight yarn such as Drops Puna or Quince and Co. Chickadee in at least 3 contrast colours and 1 Main Colour (for the border)
• You can have as many colours in the centre of your flowers as you would like. Just be sure to get at least 3 for our class purposes.
• Yardage will vary depending on what size of blanket you would like to make and your individual tension. The instructor will work with students on purchasing the correct amount of yarn for your desired end blanket.
Sessions:
Mondays from 7:00 PM to 9:00 PM
Dates: Feb 22, Mar 01, Mar 08, Mar 15, Mar 22, Mar 29