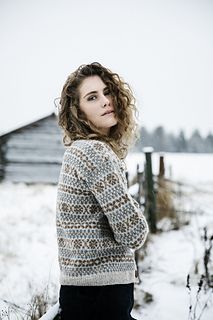 Marit: Advanced Fair Isle Cardigan
Instructor:
Class Description:
Level up your steeking with this amazing design by Kristin Drysdale in Finnish Tukuwool.
In this class we will knit a fair isle garment from the bottom-up and learn a variety of new, challenging and fun techniques:
- Steeked armholes and cardigan opening

- Sleeve facings for attaching sleeves and covering steeks
- Knitting a small portion of the top back and forth in stockinette stitch (learning two-handed colourwork for purling)
Students should be comfortable knitting in the round, making basic increases and decreases, knitting stranded colourwork as well as having sweater knitting experience.
Cost:
$245 plus materials (includes a copy of Laine #7)
Please call (604-874-9665) or stop by the shop to register.

Materials:
Tukuwool in 3 colours as per size for Marit

Needles as per gauge and length as per size (we will be discussing gauge and needles in the first class)
waste yarn, darning needle, stitch markers, small sharp embroidery scissors for cutting steeks
Sessions:
Sundays from 5:30 PM to 7:30 PM
Dates: Sep 22, Sep 29, Oct 06, Oct 13, Oct 20, Oct 27, Nov 03, Nov 10, Nov 17, Nov 24, Dec 01, Dec 08, Dec 15, Dec 22, Dec 29, Jan 05, Jan 12, Jan 19, Jan 26