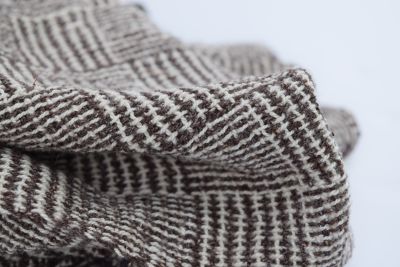 Colour and Weave
Instructor:
Class Description:
For new weavers and those that have woven before. This project based class will tackle the complex looking but very straight forward colour and weave stripe patterning while working on a pre-warped Ashford SampleIt loom. I'll walk you through basic weaving techniques including vocabulary, and simple finishing options. No previous weaving experience is required but for those of you who have woven before we will go deeper into colour and weave techniques.
Over the course of two sessions you'll make a beautiful silk scarf featuring GOTS certified Venne cottolin in a palette similar to the ones shown in the sample. A small class size means there will be lots of one on one to make sure everyone completes their work.
Cost:
$120 plus materials

Please call (604-874-9665) or stop by the shop to register.

Materials:
One cone of GOTS certified Venne cottolin in 3-7000 and a second cone in one of the following colours: 3-6024, 3-6044, 3-7003, 3-7099, 3-5040
Sessions:
Saturdays from 9:00 AM to 11:00 AM
Dates: Nov 23, Nov 30