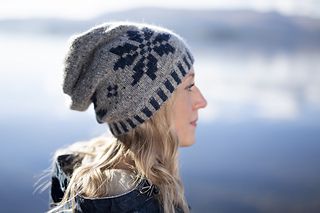 Chrysanthemum or Tarradale Hat- Double Knitting Class
Instructor:
Class Description:
Learn to knit reversible fabric in this technique-based double knitting three-week workshop. We will be learning the techniques needed to make the beautiful Chrysanthemum Hat by Mirielgw or Tarradale by Emily K. Williams.
Students should be comfortable knitting and purling in the round, basic decreases (ssk and k2tog). This class is suited for intermediate knitters.
Cost:
$90 plus materials
Class fee includes yarn needed to make a double knitting swatch in the first class.
Please call (604-874-9665) or stop by the shop to register.

Materials:
A copy of the Chrysanthemum Hat pattern or Tarradale

For Chrysanthemum Hat: 2 colours of Koigu, Tukuwool Fingering or Quince and Co. Finch (2 skeins of each colour)
16" 2mm circulars
For Tarradale: 2 colours of Quince and Co. Finch, Tuku Fingering, Jamieson and Smith Shetland or Shetland Spindrift (330 yards for each colour)
All projects: 24" 4mm circular needles, stitch markers, darning needle
Sessions:
Sundays from 8:00 PM to 10:00 PM
Dates: Sep 22, Sep 29, Oct 06