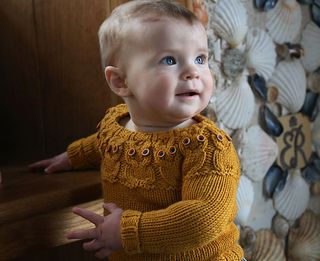 Baby Owlet Beginner Sweater
Instructor:
Class Description:
Join us in our online zoom class and learn sweater construction in this fun and easy beginner child's sweater. We will be learning how to make and count swatches for successful sweater knitting as well as learning how to create cables for the Owlets.
Students should be comfortable knitting and purling as well as making basic decreases.
Please read Tips for Navigating Online Classes to prepare for and have the best possible experience with our virtual zoom courses.
Cost:
$125 plus materials
Please call (604-874-9665) or stop by the shop to register.

Materials:
All correct materials are available for purchase at Three Bags Full and can be picked up from the shop or shipped out via Canada Post.
• A copy of Kate Davies' Owlet

• Rosy's Green wool (washable and soft worsted weight yarn) 2 skeins for 6 month size, 3 skeins for 9 month, 12 month, 12-18 month and 3-4 skeins for 18-24 months
• 1 skein of Quince and Co. Lark in a light colour to knit the flat practice swatch. We will be making a swatch in the round with our sweater yarn as well.

• 4.5 and 5 mm 16" circulars, 4.5 and 5 mm double-pointed needles, darning needle, stitch markers, cable needle

Sessions:
Tuesdays from 7:00 PM to 9:00 PM
Dates: Mar 02, Mar 09, Mar 16, Mar 23, Mar 30, Apr 06, Apr 13, Apr 20, Apr 27, May 04