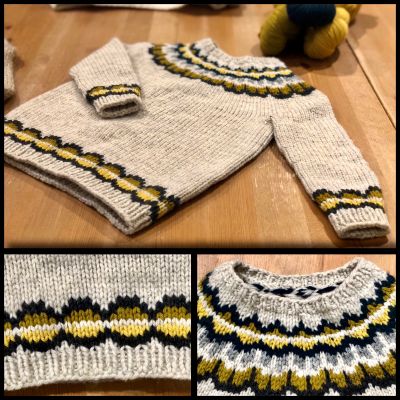 Almanac Top-Down Colourwork Sweater Class
Instructor:
Class Description:
Learn stranded colourwork knitting in this fun online zoom class by knitting a child's sweater. This top-down sweater class is suitable for beginner to intermediate knitters comfortable knitting in the round.
This class has been designed to have enough knitting time to knit the children's sized sweaters (0-6 months to 4-6 years). Feel free to join if you are comfortable knitting any of the other sizes in this time frame,
Please read Tips for Navigating Online Classes to prepare for and have the best possible experience with our virtual zoom courses.
Cost:
$125 plus materials
Please call (604-874-9665) or stop by the shop to register.
Materials:
All correct materials are available for purchase at Three Bags Full and can be picked up from the shop or shipped out via Canada Post.

• A copy of TinCanKnits Almanac
• Quince and Co. Lark, Rosy Green Wool Big Merino Hug or Quince and Co. Owl in yardage as per pattern (sample shown Lark in MC Audouin, and CC's Sabine, Peacock, Carrie's yellow and Honey)
• stitch markers
• highlighter tape (if working from a paper pattern)

• 4.5 mm circular needles (16" for baby to children's size 2-4 years and 24" for children's 4-6 years)
• We will be discussing gauge in our first class and determining needles needed for entire sweater based on our gauge swatches.
Sessions:
Thursdays from 7:00 PM to 9:00 PM
Dates: Apr 01, Apr 08, Apr 15, Apr 22, Apr 29, May 06, May 13, May 20, May 27, Jun 03, Jun 10