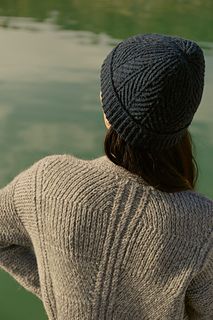 Alatau Hat
Instructor:
Class Description:
Turn your hat skills upside down by knitting this top-down hat. We will be starting at the crown and working downwards. The pattern looks cabled, but is created using properly slanted increases and a twisted decrease. This class is best suited to intermediate knitters comfortable working small circumferences in the round as well as working simple increases and decreases.
Please read Tips for Navigating Online Classes to prepare for and have the best possible experience with our virtual zoom courses.
Cost:
$100 plus materials (copy of Pom Pom #31 included in class price)
Please call (604-874-9665) or stop by the shop to register.

Materials:
All correct materials are available for purchase at Three Bags Full and can picked up from the shop or shipped out via Canada Post.
• 4 mm double-points, Addi Flexiflips or 40" circular (for magic loop) and 16" circulars

• 1-2 skeins of Rowan Felted Tweed (2 skeins needed for largest pattern size)

• stitch markers, darning needle, highlighter tape (if working from a paper pattern), scissors

• Copy of Pom Pom #31 included in class price (at a 30% discount)

A digital code is included in the Pom Pom magazine so you can also work the pattern from your device
Sessions:
Sundays from 6:30 PM to 8:30 PM
Dates: Nov 01, Nov 08, Nov 15, Nov 22, Nov 29, Dec 06