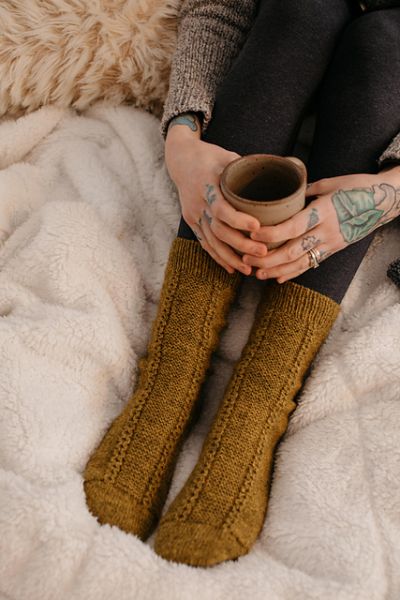 Adventures in Toe-Up Sock Knitting- Vinr or Tuku Honey
Instructor:
Class Description:
This class is perfect for the sock knitter who is ready for something a little more adventurous! Both of these beautiful cabled socks are knitted toe-up, with fleegle heels and using magic loop method. We'll cover how to cable without a cable needle (allowing for faster knitting and less tools!), how to cast on perfect toes and create great shaping for any size foot.
Choose between 'Tuku Honey's honeycomb cables and garter stitch striping or 'Vinr's mirrored cables and sleek ribbing.
Students should come to class with prior sock knitting experience.
Cost:
$75 plus materials
Please call (604-874-9665) or stop by the shop to register.

Materials:
Vinr by Andrea Mowry
2 skeins Tukuwool Fingering (or any other fingering weight sock yarn)
2.5mm circular needle (80cm long or as long as possible for magic loop method)
or

Tuku Honey by Andrea Mowry
2 skeins Tukuwool Fingering (or any other fingering weight sock yarn)
2.5mm circular needle (80cm long or as long as possible for magic loop method)
Sessions:
Wednesdays from 7:00 PM to 9:00 PM
Dates: Jul 31, Aug 07, Aug 14, Aug 21, Aug 28